Three quarters of the world's surface is covered by water. With more than 11,000 inland lakes and more than 35,000 miles of streams, the state of Michigan has more fresh water coastline than any other state in the country. The city of Detroit sits on part of this coastline and connects two great bodies of water – Lake St. Clair to the north, and Lake Ontario to the south.
I ask: How can a region with so much access to water have so many people who don't know how to swim?
Drowning is the 2nd leading cause of accidental
death amongst children in the US, and minorities drown at a rate three times higher than their Caucasian peers. According to the Centers for Disease Control and Prevention, approximately 10 people drown every day in the U.S. Participation in formal swimming lessons can reduce the risk of drowing by 88% among children aged one to four years according to Pediatrics and Adolescent Medicine.
For existing swimmers in the community, there are very few events to participate in that promote the benefits of the sport. The nearby city of Ann Arbor was recently ranked the number 1 swim city in the country; however, in the Metro-Detroit community, there is limited pool accessibility and opportunities for swimmers to truly experience the sport. Understanding this, I created my design challenge question that defined the scope of focus for this impact challenge.
How might we foster an environment that empowers social interaction, philanthropy, and excitement for the Metro-Detroit swimming community that is repeatable year after year?
The Fastest Open Water Swim in the World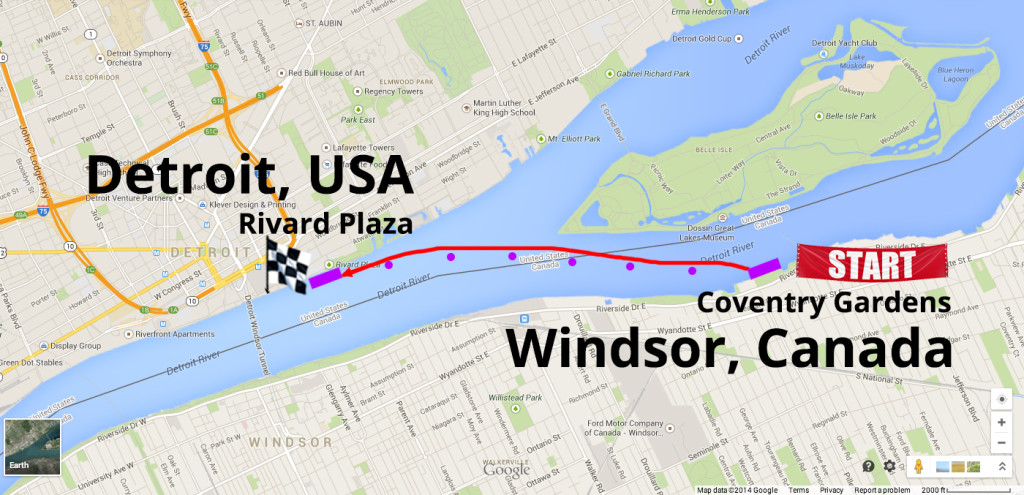 This short international crossing from Windsor to Detroit will
attract regional and national talent to Detroit for this one of a kind event. While the event will inspire participation at the highest level, it will also be accessible to a large audience of swimmers from aspiring age-groupers to masters swimmers and triathletes. It will not only put a positive spotlight on the city and region, but also has the potential to raise significant dollars for learn to swim programs that are impacting the community such as Detroit Swims.
Obviously there are a number challenges
associated with organizing a race of this complexity between two countries in one of the busiest shipping channels in the world. It is feasible, and over the past few weeks I've been working with a number of organizations and individuals including the US & Canadian Coast Guards, and different race event services to make this swim a reality in 2015.
WATCH: Cross-Continental Swim: ASIA -> EUROPE
If this sounds interesting to you from a sponsor perspective weather it be promotional support, financial backing or just volunteering on the day of the swim, I'd love to connect with you!
Every year over a billion dollars of trade passes between the United States and Canada. It's time that we take ownership of our iconic international border, and let the world take notice of what's going on in Detroit!