Tell us about one of your favorite neighborhoods in Detroit and what makes it unique?
Pretty cliché, but I have many favorite neighborhoods in Detroit; they're all different and many go under the radar. But since I have to pick, there's one place in the Jefferson Chalmers neighborhood that's really cool. There's an area right on the river where canals weave in and around the houses, and you can kayak through them. An organization called Detroit River Sports leads you on tours through the canals and into the river. It's relaxing and you don't feel like you're in the city at all. On the specific tour we did, Coriander Kitchen & Farm provides an amazing meal afterward. It's definitely something different to do in the summer.
Tell us about the challenge project you're currently working on, what are you learning from the experience?
We just started our challenge with the Detroit 67 project, located in the Detroit Historical Museum. The exhibit reflects back on the uprisings of 1967, with the intentions of using this history to better our city's future. To quote their website- "Those who engage with Detroit 67 will be able to better understand the events leading up to July, 1967, where we are today, and connect to efforts that are moving Detroit forward."  I love the Detroit Historical Museum in general because other exhibits reflect on the history of Detroit all the way back to the beginning. You can see that people didn't just wake up super violent one day in 1967; the build-up was a long time coming.
Our challenge focuses on youth, as they are the city's future. We're designing a youth symposium surrounding the 67 project. This event allows high schoolers to engage with one another and the museum on this topic. It will also later help to build a youth council for the museum, giving the city's future to have a voice in the organization. I'm learning a lot about how we can use the past as a tool to better our future- even when that past is difficult to talk about.
Tell us about your host company and your role in the organization.
My host company is WaitTime. With artificial intelligence, we provide wait times for concessions and bathrooms at sports and entertainment venues. We have fan-facing monitors in the concourses, which display either a green, yellow, or red spectrum bar, indicative of the wait time. The signs are also impactful because they're an important way-finding tool, simply letting fans know where concessions are located. I assist in the design and creation of graphics on the signs, which really accelerated my interest in design. I also create internal newsletters to update our strategic partners on our technology and latest happenings. I have learned a lot about technology and data, and how to use it strategically. I analyze our technology in action, which helps improve the software. I'm grateful I'm able to learn so much from different areas of the company, which is something not many people get to experience.
What kind of impact do you hope to have with your host company and within the city?
My host company is relatively small, so this gives me a lot of opportunities to make an impact. I'm lucky to work so closely with everyone, so I hope to learn from their strengths in technology, business, and design. Like I mentioned, my interest in design has certainly accelerated since I've started working at WaitTime. I hope to use that interest to fuel some really cool designs for our signs, or something new altogether. Similarly, being able to use my interest in all different types of design to positively impact Detroit would be amazing.
What are you most looking forward to this summer in Detroit?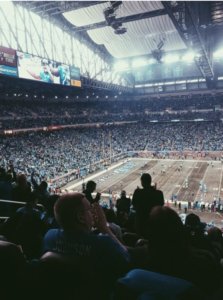 The fact that it will (probably?) not be snowing. I also just re-discovered my 35mm film camera. I was really into photography in high school, so I'm looking forward to exploring the city with my old camera. I also will attempt to finish reading The Origins of Urban Crisis. It's unbelievably dense so I can't say I'm itching to read it, but it is important. It's very relevant to our Detroit 67 challenge, and just having an understanding of Detroit in general. It argues the decline of Detroit began way before 1967. So I guess I'm excited to say that I finished it.
Also, Lions games. That's borderline fall but I can't not include them. I'm always excited for those. Coming to Lions games when I first moved here sparked my interest in Detroit.
How do you believe your fellowship will shape your career moving forward?
Being able to work with a group of people with different backgrounds, ages, races, interests, industries and so on is pretty eye-opening. Everyone has a different opinion or viewpoint. At least for me, I think it's easy to surround yourself with those like you, or those who think like you. Even when I went to the University of Michigan, which is pretty diverse, I tended to seek out those similar to me. This fellowship has taught me the immense value of surrounding yourself with those different from you- they often have something to teach you. Going forward I'll continue to push myself to get out of my comfort zone in this sense; it's only brought me good things thus far.
To learn more about Kelly's experiences in Detroit this year check out her spotlight video