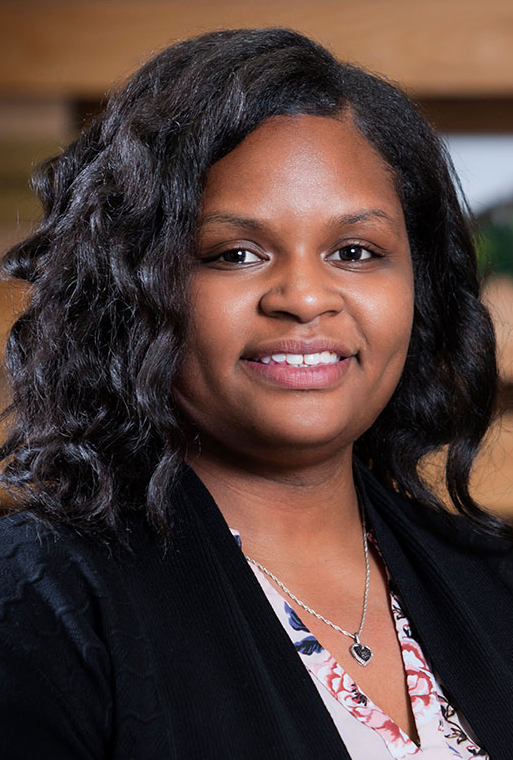 "My Challenge Detroit experience connected me to a field of work I never expected... If it wasn't for Challenge Detroit I don't think I would've thought my creative skills would be suitable [in community development]. Best decision I made out of college was to apply."
"Challenge Detroit gives you access. The most valuable part of my experience was taking advantage of the facilitated connections to a wide array of people, projects, and events in the city."
"I can truly say that Challenge Detroit provided a space for me to learn, grow and present as my true self."
"Challenge Detroit allowed me to continue serving the community while growing and learning in a new professional space. I am grateful to Challenge Detroit for connecting me with my host company, where I was able to try out different roles, learn at my own pace and with the support of my team, and pivot my career to something drastically different than what I started out doing."
"Challenge Detroit has provided me with a unique experience as a young professional that will be hard to replicate, and impossible to forget. The lessons I've learned from my host company have complemented the perspectives I've gained from Fridays at Challenge Detroit. The two combined have served as a robust platform for me to grow professionally in ways that I could not have imagined before the program began."
The challenge projects are great for exposure to different sectors, people and areas of impact in a quick amount of time. Not all of us have a linear career path - [Challenge Detroit] offers an opportunity to learn about different experiences and connect with different people to help guide our paths.
"Through Challenge Detroit, I was able to understand the deep commitment of Detroit's non-profit community to creating a more equitable city. I worked with partners who are committed to supporting Black businesses, changing economic ecosystems in the city, and transforming education for Detroit's children. In one year, I got to develop my own professional skills while seeing the impact of the important work that Detroiters have been doing for years."
"Challenge Detroit pushed me outside of my comfort zone, allowing me to learn new skills and providing me with an opportunity to move into a new and unexpected role at my host company once my fellowship year was over. I'm now a well-rounded marketing professional, with experience on both the creative and client services side of the field! I owe all of that to Challenge Detroit."
"The fellowship has opened doors for me that I never knew existed, and put my name in places I never stepped foot in due to the work that we are doing with the community."
"Challenge Detroit has been my most beautiful surprise. As a young person returning to Detroit during such a chaotic time as the Covid-19 pandemic, this fellowship gave me structure, access to the city's leadership, an opportunity to effect change, and a new family. I will always value this experience."
"Challenge Detroit is really unique compared to other fellowships in that they really help position you and give you a pathway to continue your work after the fellowship. It doesn't feel like a one and done thing. Once you're done with your year, you're still extremely connected with both the fellows that you were with, and also with the companies (and organizations) that are working with Challenge Detroit. It was able to grow my network by like tenfold."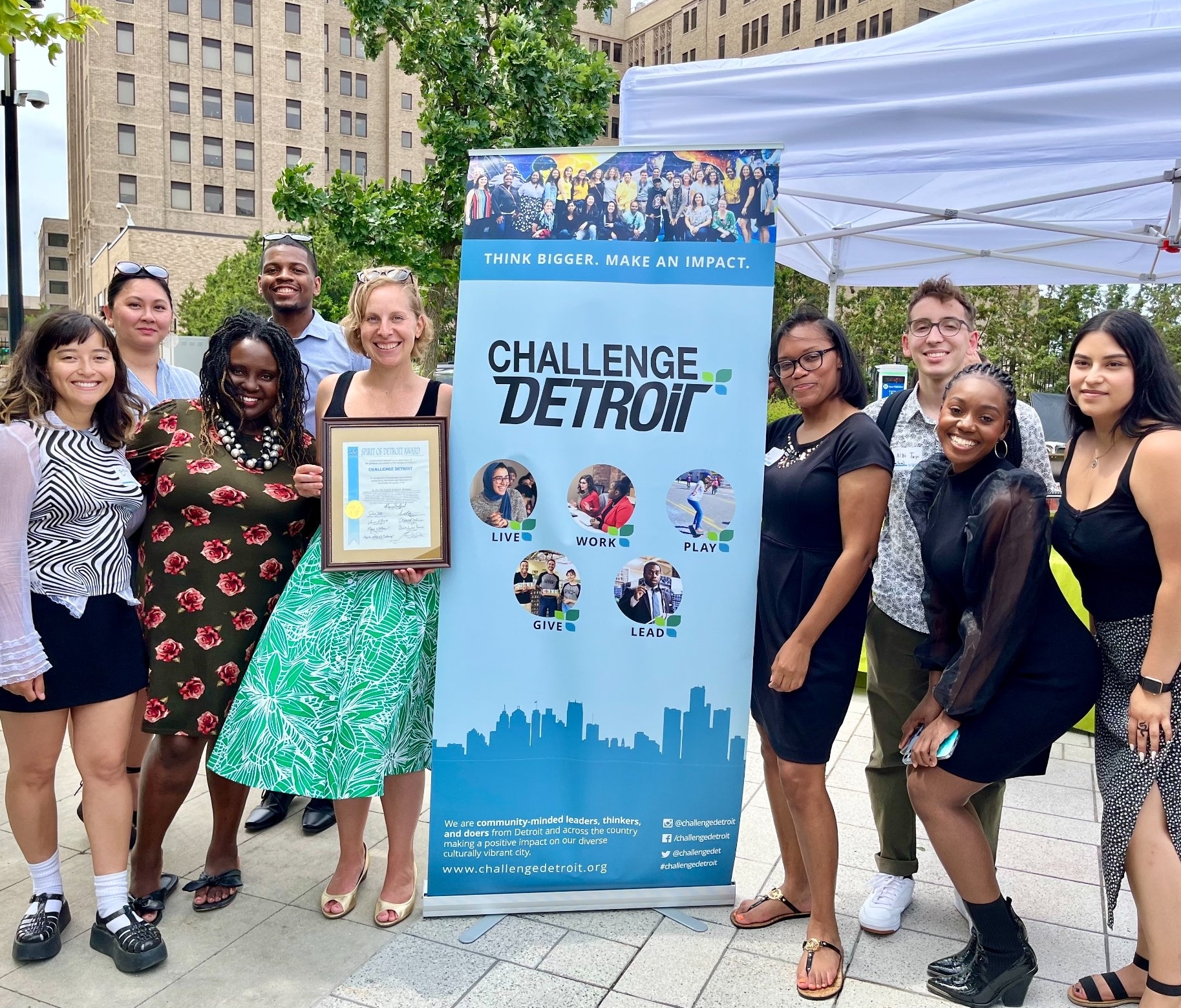 Why you should apply
Learn about the many benefits of the fellowship opportunity, from social to career, personal development and more!
As a Challenge Detroit Fellow, you will:
Develop valuable leadership, project management and team-building skills through a multi-faceted leadership development program
Gain knowledge and experience in various areas of impact in an accelerated time frame
Grow your career at your host company and learn about different sectors and industries
Learn and leverage the art of design thinking and community development best practices
Collaborate with multiple Detroit-based nonprofits on strategic, intellectually-based, community-focused projects to support them in moving their missions forward
Acquire a better understanding of the city by learning about the history of Detroit, how it has impacted the region, and about various neighborhoods in the city
Cultivate meaningful relationships with your cohort and the broader Challenge Detroit community
Connect with mentors and gain access to local leaders who have an interest in your success
Join the network of over 300 alumni Fellows who continue to engage and support the program as well as contribute in their communities
Receive a $43,000* annual salary when you apply for our Standard Track, plus variable benefits typical of your host company
*Internal and Community Leader Track applicants receive a discretionary salary from their employers.
WHO WE ARE LOOKING FOR
Read about our qualifications and requirements to determine if this is the right opportunity for you.
We are looking for candidates from the City of Detroit, surrounding areas, the state of Michigan and beyond, who represent a diverse range of race/ethnicity, gender identity, orientation, thought, experience, educational backgrounds, perspective and ability. The most successful candidates are passionate about community, dedicated, proactive, hard-working, innovative, adaptable and have a growth mindset.
All applicants must:
Be able to read and communicate in written and spoken English fluently—all materials are in English and programs are conducted in English (candidates with proficiency in more than one language are welcome).
Be in the City of Detroit or greater Detroit area and be able to commute to various locations within the City of Detroit regularly for the duration of the program.
Be authorized* to work in the U.S. for the duration of the program (Sept 2023-Aug 2024).
Meet our full list of requirements which can be viewed by clicking here.
*Challenge Detroit is unable to assist with employment authorization, visa sponsorship or immigration.
OUR PROCESS & TIMELINE
After you apply, what happens next? Learn about our process and timeline/key dates.
Online Application | Due Tuesday, April 4, 2023, 11:59pm (Eastern Time)

Complete a basic online application with short answer questions, and submit a one-page resume (plus a portfolio link if typical in your industry) and a 60-second application video by our deadline. Click here to view our application tips and guidelines.

Application Review | Rolling

Challenge Detroit leadership, our host companies, and a community review team, will review each application and select candidates to invite to move forward.

Finalist Notification | Rolling

Candidates who have been selected as Finalists will be notified about 2-3 weeks prior to the VIE on a rolling basis.

The Virtual Interview Experience (VIE) | June 7-8, 2023

Finalists will join us for our Virtual Interview Experience (VIE) where they will interview with our host companies/potential employers and Challenge Detroit Leadership, hear from current and alumni Fellows, connect with other candidates and learn more about the city and our program. Participation in the VIE is required for standard track candidates.

Becoming a Finalist and participating in the VIE does not guarantee that a candidate will be hired and placed as a Fellow as multiple candidates are being considered for each role.

Placements | Starting Mid June (Rolling)

Following the VIE, Challenge Detroit leadership will work with the host companies while also putting into consideration candidate feedback to determine final job placements. Challenge Detroit will notify candidates of their placement and acceptance into the program on a rolling basis.

Fellowship Program | Starting September 2023

The program year will begin in September 2023 and finish at the end of August 2024. Learn more about what the year as a Fellow will be like here.