Tell us about one of your favorite neighborhoods in Detroit and what makes it unique? 
One of my favorite neighborhoods in Detroit is the one I live in, Midtown or the Cass Corridor. What makes it unique to me is that it is the perfect 20-minute neighborhood. I enjoy the amenities and organic social collisions that take place in cities through, art, culture, food, music, and people. So, when looking for a place to live during the fellowship year, I sought out an area where I could get my needs for community, education, entertainment, and transportation met relatively easily. Living in Midtown, I have convenient access to: the DIA (Detroit Institute of Arts), the Scarab Club, Detroit Public Library, DSO (Detroit Symphony Orchestra), and soon to come Urban Ramen, all my favorite places; and all within a twenty-minute walk! I also love Midtown because it is a place where I do most of my learning and unlearning as I find myself at community meetings – sometimes twice a week. The Urban Consulate and Cass Corridor Commons have been a beacon to me for fantastic community dialogue and activism.
Tell us about the challenge project you're currently working on, what are you learning from the experience?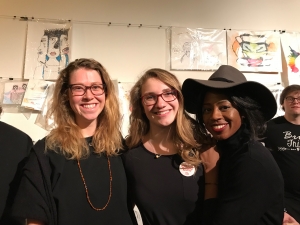 Currently, we are working on our youth engagement challenge. Our partner is the Urban Neighborhood Initiative (UNI) whose focus is on youth development, neighborhood beautification, and economic success in the largely Hispanic Springwells neighborhood of Detroit. Our main design question is: "how might we support youth and community artist through a mural tour that tells the stories and preserves the history and culture of the neighborhood?" I was placed on the mural tour strategy team whose focus is on improving economic development in the neighborhood through the tour. Though the project just kicked
off last week, I have already learned so much about the community. Over the next five weeks, I look forward to working with various stakeholders and fellows to co-create a solution that meets the needs of the community through this project.
Tell us about your host company and your role in the organization.
My host company is DTE Energy. Everyone knows DTE or "Detroit Edison" because they service over 2 million customers throughout the state of Michigan. One thing I admire about DTE is that they have made it a corporate priority to be a "Force for Growth" in communities they serve. As someone who is passionate about community development, this dedication of corporate resources to improve Detroit and the state as a whole is exciting. I work in the Public Affairs department on the corporate volunteerism team and my role is to connect employees to opportunities to enrich neighborhoods through volunteering.
What kind of impact do you hope to have with your host company and within the city?
One type of impact I hope to have at my host company is to bring in the design thinking process we utilize in our challenge projects into the corporate space. The value that comes from being challenged weekly with tough questions around equity and development, our proximity to community stakeholders and the constant iteration of the design process can serve as a valuable tool for the enterprise to reimage community transformation and elevate the way they do programming. I would love to see empathy, prototyping, testing and delivery utilized on as many DTE projects to further their aspiration to be a Force for Growth in the areas in which they serve. Within in the city, I will continue on my journey of learning and unlearning. The impact I hope to leave here is one of someone who came, listened and worked in earnest toward positive change.
What are you most looking forward to this summer in Detroit?
This summer in Detroit, I am looking forward to the city coming alive with cultural events, food, music and outdoor activities! I have heard that the city "shows out" so I am eagerly awaiting a chance to explore more of the city with the Sun in hand.
How do you believe your fellowship will shape your career moving forward?
This fellowship provides me with a platform to learn about urban revitalization, leverage my position working inside a corporation and with non-profits, push myself past my learning edges, and to take advantage of opportunities to be involved in Detroit's development. The knowledge and practical application of design thinking will shape the work I do as a development professional in the states and throughout the world.
To see more of Folake's experience as a Fellow check out her spotlight video!