What's your [release]?
What's your [euphoria]?
—
My secret to escaping involves a lot of colour, inspiration, and often times a mess; painting is my escape. "Adulting", as I like to commonly blame, has distracted me from this hobby because unless artistic requirements are a part of a mandatory assignment, the discipline tends to fade into the background.
My bestie, JK, shares the frustration of not being able to play with colourful palettes of goop and canvases awaiting our work. This December we took up an opportunity to play with this junk, even during a busy week prior to the holidays and in the midst of major deadlines- in fact we both admitted to almost cancelling but pulled through to make the date [reluctantly]. Spoiler alert- we were super glad we made the trip to an art class on a busy and rainy Tuesday evening. Despite our racing minds and the need to spend our moments together bitching about frustrating subjects circling around in our minds, we sat in silence mesmerized by the task at hand.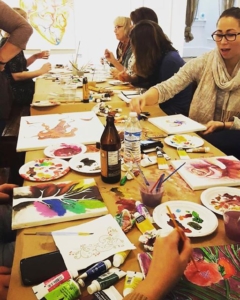 At the session came to an end and we looked up from our canvases and at each other, we saw a relaxed expression looking back at us with calm all over their face. In the best way we know how, we spent the last two hours meditating and releasing stress through our art.
Thanks Brooke Ellis for hosting your first successful Art Class @ the Art House. It was the best [therapy]. <3 Be sure to check out her stuff!
Find a hobby that can momentarily set you free and release you from your daily routine.
Check out this article by Lifehack that tells your "How to Find One That Fits Your Personality". Link: http://www.lifehack.org/articles/lifestyle/hobbies-are-good-for-you-how-find-one-that-fits-your-personality.html