I'm often asked how I know so much about what's going on in Detroit, especially when it comes to new spots for food, drinks, or shopping. It's definitely true that my job at the Chamber helps me to keep abreast of new development and business openings, but my real wealth of knowledge comes from a much simpler and cathartic place; I like to take walks. A handful of years ago my passion for the city was ignited by wandering around its streets, both the manicured and closely guarded sidewalks of the Quicken "campus" and the less savory side streets and littered pavement of areas that looked like they hadn't seen a pedestrian in days. In many cases the latter was more interesting because it presented an opportunity to imagine what the empty store fronts and mangled buildings could be. Over the last few years downtown Detroit has become less "could" and more "is", which perhaps makes my walks less imaginative but also just as interesting because they present me with literal manifestations of those hopes and dreams for the buildings I pass every day. The walk becomes even more exciting because every week it seems like I come across a new development or storefront. Weekly developments may sound like an exaggeration to some so I decided to document one of my recent strolls, a simple jaunt from my office at One Woodward to Grand Circus. I set my timeline to places or signs of development new in the last few weeks, here's what I came across;
Calexico: born in New York this Mexican inspired restaurant now takes up the old Olgas space in the One Campus Martius building. The job fair sign would indicate an opening should be happening later this summer.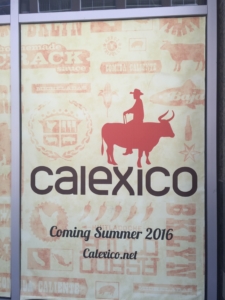 Detroit is the New Black: Local retail on Woodward! now we're talking. Got to admit I was excited to see this because I already have a couple items from their midtown location on Forest. All indications are for a summer opening.
Kit and Ace: another transplant from Midtown and welcome retail storefront on Woodward. This place is already open and offers a plethora of hip looking clothing for the millennial set. This place should make a killing with the ever increasing flood of young professionals in the area every day.
Norte: Just across Grand Circus Park in the old Taqo space is a seemingly more authentic and trendy take on Mexican food. Not appearing to be open for lunch yet, the sign indicated they had dinner and late night hours.
The Royce: With nondescript signage and seemingly not a lot of action inside I had to cheat and google this place. Looks like Grand Circus will have its very own wine shop and bar soon, again summer 2016 seems to be the benchmark for opening.
Rusted Crow: As a Dearborn resident this was a familiar sight. The original distillery and tasting room location on Telegraph in Dearborn Heights was quite small and out of the way, but ample space and prime location in Fox Town should make this a hotspot for cocktail connoisseurs and sports fans alike once it's open.
Bonus: Micro-Lofts! Yes, that torched strip club turned Dan Gilbert opportunity is moving along. 300 square feet might be pretty cozy for an apartment to some but it's going to be really hard to beat the location once they're open for tenants.
So 30 minutes and a little over a mile. That's all it took to discover 7 exciting new locales in Detroit. And to think, the same walk several blocks over may have yielded even more new opportunities and development. So although you're welcome to scour local websites and foodie blogs for new places coming to the city, if you really want to stay on top of your next favorite restaurant or store, all you've got to do is put your feet to the pavement and roam.