Growing up on Long Island, a short train or car ride away from New York City, I was extremely lucky to live in close proximity to world-class cultural entertainment. I also had the privilege of being raised by my parents who were interested in exposing my sister and I to ballet, opera, and theater. Some of my favorite childhood memories involve putting on little fancy dresses and being driven into the city to attend Sunday matinee performances in Lincoln Center.
This December I was excited to learn (through a Challenge Detroit alumni) about Broadway in Detroit! The Fisher Theatre, housed in the Fisher Building in the middle of New Center, hosts traveling productions of Broadway shows. Opened on November 11, 1928, the theatre is one of Detroit's oldest live performance venues. Getting together with a group of old and new Challenge Detroit fellows, we had a very cultured evening seeing Lisa Kron's (a Michigan native) musical, Fun Home on the Fisher stage.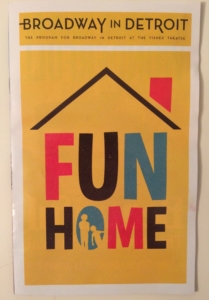 Although the Thursday evening's audience wasn't as packed as the shows I was used to, the musical's themes created an intimate atmosphere that only live performances can. Walking out of the Fisher Building that evening, I had a renewed sense of hope for Detroit's future, a deeper respect for its history, and pride that the city I lived in could attract the same productions as New York, New York. I imagined a time when the Fisher's doors would spill open with patrons, little girls rushing to stage doors with their playbills, posing for photos on West Grand Boulevard in their little fancy dresses.