When I first moved to Detroit I decided to try and embark on a plant based, vegan lifestyle. Coming from the east coast, it wasn't hard to find a salad bar on many corners of Boston streets. My friends were amused that on my move to the Midwest I would decide to change my diet so dramatically. However, I've been pleasantly surprised by the many plant based restaurant options out here. The Detroit food scene has a lot to offer for vegans/vegetarians! Here are a few of my favorite choices:
Detroit Vegan Soul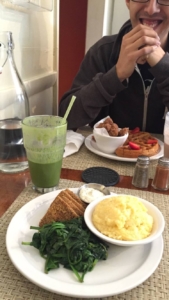 As the name implies, their entire menu selection is vegan! This is my favorite restaurant in the city because I can have my pick off of anything on the menu, from chocolate milkshakes to soul food style "catfish." It's located in West Village in close proximity to some beautiful houses you can walk around and admire while you wait for a table!
Seva
Seva has two locations, one in Midtown Detroit and one in Ann Arbor, and I frequent them both! General Tso's cauliflower might be my favorite dish I've tried since I've gone vegan.
Brooklyn Street Local
Located in Corktown, Brooklyn Street Local is even walk-able from downtown on a nice day. This is the first place I tried poutine, which is a Canadian (Detroit's close neighbor) dish usually made with cheese curds and gravy, but adapted by BSL to be vegan-friendly!
Russell Street Deli
Russell Street is usually where I'm popping in for lunch after a morning shopping at Eastern Market. Family style seating lets you get to know your neighbors and I've often been tipped off on a great Detroit event happening later that day while enjoying a TLT (Tofu, Lettuce, Tomato)!
I hope you enjoy exploring all of the plant-based restaurant options Detroit has to offer, no matter what neighborhood you find yourself in!