Tell us about one of your favorite neighborhoods in Detroit and what makes it unique?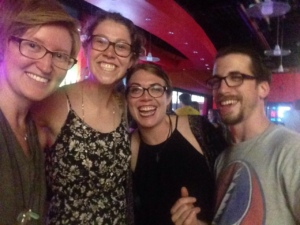 I live in New Center which is one of my favorite neighborhoods. I'm fortunate to live within walking distance to New Center Park, which offers free movie nights over the summer, as well as Avalon Bakery, Northern Lights Lounge, and CVS. And, it's only about four miles from downtown so I can bike to work.
Tell us about the challenge project you're currently working on, what are you learning from the experience?
We are currently working on a project with Urban Neighborhood Initiatives. Specifically, we are working on how to support youth and community artists and tell stories of the murals to preserve the history and culture of the neighborhood. As a member of the mural tour design team, I am learning the significance of uplifting the community narrative and ensuring equitable transactions. And, as with all of the Challenges, strengthening my interpersonal skills, as I'm working with a new group of fellows.
Tell us about your host company and your role in the organization.
I work at DTE Energy, in the Public Affairs office. I'm in the Neighborhood Revitalization team and focus specifically on Beacon Park. It's a really exciting job and I am lucky to have the opportunity to help manage the programming, communications, and operations in Beacon Park's first year.
We asked Meg's host company what she has been working on during her fellowship and here's what they shared.
Meg is currently working on the newly opened DTE Beacon Park. As a new park in the City of Detroit, and certainly something different for DTE Energy, we continue to learn everyday about how to best operate, program, and communicate about Beacon Park. Meg has jumped in head first on coordinating for the Public Affairs group EVERYTHING Beacon Park. She has been a great asset to the team and the creativity and enthusiasm that she brings every day to the team is refreshing. – Brian Nuno, Program Manager
What kind of impact do you hope to have with your host company and within the city?
I hope to improve and strengthen the various processes at DTE Energy, related to managing and evaluating Beacon Park's programming and operations. Within the city, I hope to make an impact through my work with Beacon Park and beyond, to support equitable and inclusive growth in the city.
What are you most looking forward to this summer in Detroit?
I am excited to spend more time outdoors! It will be nice to bike everywhere, spend time at the beach on Belle Isle, and use my hammock.
How do you believe your fellowship will shape your career moving forward?
Challenge Detroit has taught me about design thinking, which I think is a useful framework and approach in any position. The fellowship has also allowed me to join a strong network of like-minded people in Detroit, which is helpful as I continue this journey of discernment and continue with my career path.
To see more of Megan's experiences in Detroit this year, check out her spotlight video!