We recently connected with Year 5 Challenge Detroit Fellow Everett McMillen Cislo and his host company is Sachse Construction.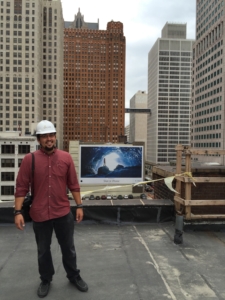 Tell us about living in Detroit. What neighborhood do you live in and what things make it unique?
I currently live in the Rivertown area. I'm a block away from the Detroit river and have a fantastic bike commute down the riverwalk area to my work. It's still pretty remarkable to me that I can look left and watch Canada go by as I go to work. The transition from being from Kentucky to Detroit is certainly there, but I really appreciate how authentic the personality of Detroit is. The more questions I have answered about this city, the more I answers I want. That, to me, is the best scenario because I legitimately don't know what new thing is going to happen to me every day.
What have you learned from Challenge Detroit so far?
I have learned that with the extremely diverse amount of experiences my colleagues have, there is a crazy amount of creative problem-solving capabilities. There have already been times where I'm unfamiliar with a certain topic/area/realm/whatever, and have asked around and found someone with a wealth of knowledge who can explain things to me and really help me understand something on a whole other level.
Tell us about your host company and your role in the organization.
I am a videographer with Sachse Construction. I'm doing a wide array of photo, video, and other creative work. It's been a unique opportunity to be as creative as I want, which is something I very much enjoy. My work life could not be a more supportive. I'm learning so many new skills and being exposed to many different views and practices. I couldn't have asked for a better environment to help shape my time with this fellowship.
Andrea Wright of Sachse Construction shared that "The videos produced by Everett will serve as a valuable educational resource that helps maintain an up-to-date knowledge base for our workforce."
What kind of impact do you hope to have with your host company and within the city?
My role as a videographer is new to the company, and the amount of support I've gotten since day one really endears me to them. The environment and culture within Sachse is really something unique and I'm quite grateful to be there. I'm excited to bring the visual storytelling aspect to the company and see what can be done.
The impact within Detroit I'm looking to have is to help tell the story of the city and it's people. Yeah, that's kind of a non-answer, but I think there are so many rumors and stereotypes that are completely off-base, to show the reality of the city and the honesty with which residents exist is something all unto its own. Still new here, still excitedly learning more every day.
As you begin your year as a Fellow what are you most excited for?
I'm excited to be around my colleagues within both Sachse Construction and the Fellowship. I think if you are the smartest person in the room, you're in the wrong room. I'm in the right room, and I am very glad of that. I am extremely eager to learn from everyone in this remarkably deep pool of knowledge, experiences, and backgrounds. Every person, I'm learning, is a substantial resource and I'm very grateful for the opportunity to work with them.
To learn more about Everett's time in Detriot so far check out his spotlight video!