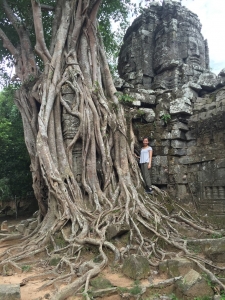 As a year three Challenge Detroit Fellow, you finished your fellowship over two years ago. What are some of your highlights, personally and professionally, from the past two years?

The last two years have been a whirlwind! After my fellowship year in Detroit, I moved to Shanghai and worked in media production, backpacked across Southeast Asia and Australia, and then moved to Toronto where I live now. In these two years, I stepped way outside my comfort zone (moving to Shanghai and working in Mandarin was the hardest thing I've ever done), explored new cultures and parts of the world, and learned a lot about myself: what drives me, what keeps me up at night, what gets me up in the morning. Toronto is starting to become a home for me, but Detroit will always hold a special place in my heart.

You work with an awesome organization, SheEO, tell us about the organization, your position, what your experience has been like and how you continue to carry what you learned during your fellowship in your work today.
SheEO is a global community of women transforming the way we finance, support and celebrate female entrepreneurs. In our model, women "Activators" each contribute $1100 to a fund, that is then loaned out at 0% interest to support women-led companies with social impact. We are creating a perpetual fund that will be handed down to our daughters and granddaughters.
My role at SheEO is Activator Relations Lead. I'm responsible for recruiting and onboarding Activators (we call this "welcoming IN") and building a strong community of 2500+ women in the US, Canada, and New Zealand. I spent the last two months on the road traveling across North America hosting events every night, encouraging women to 'activate' and apply for funding. It's incredibly busy and incredibly rewarding. Every day, I get to have conversations with women about the role we play in the world and the impact we can create together.
During Challenge Detroit, I learned the importance of listening to and designing for community members, and how to collaborate with different stakeholders – lessons I regularly apply at SheEO.
In what ways do you serve as an ambassador for Detroit in your work and life outside of the city.

In my travels and now in my life in Toronto, I talk about Detroit every chance I get. I take it as an opportunity to share my positive experience living and working there, and I love changing people's often negative (misguided) perceptions of the city.
This year SheEO expanded US-wide for the first time, and I was excited to welcome two of my former colleagues from my Challenge Detroit host company, Natalie Bruno, and Hamsa Daher, to the SheEO Activator network 🙂
What are a few of your favorite ways to play and explore in Detroit?


I love coming back to Detroit, and will, in fact, be visiting this weekend! For me, no weekend is complete without a stop to a few of my favorite spots such as Eastern Market, Taqueria El Rey and Trinosophes, and catching up with friends and other Challenge Detroit alumni. I also love trying new restaurants, supporting local businesses, and attending community events and festivals. There is always something to look forward to!
What excites you most about Detroit's future?

Seeing black, immigrant, and women-owned businesses thrive, the creation of more economic opportunities for native Detroiters, and community projects that are unique to the city (like Detroit Soup and Pedal to Porch – founded by Challenge Detroit Alumni Fellow Cornetta Lane). I would also love to see Detroit build a mass transit system that connects people outside of downtown and Midtown. There is so much potential and possibility in this city – there is an opportunity to rethink how things have been and can be done. I can't wait to see what the future holds for Detroit, and hope to be part of it.