Some Detroiters may think that they are aware of all the neighborhoods in Detroit. But, are you aware of the "Dog Leg " community also known as infamous Southwest Detroit?  I am not referring to Mexican Town or the old Michigan Grand Station, but I am implying an area that is often forgotten. The Delray, River Rouge and Ecorse section of Southwest Detroit.
Delray, River Rouge, and Ecorse is an urban area of southwest Detroit that is well known for its high crime, poverty, unemployment levels, and industrial pollution.  Although River Rouge and Ecorse are separate cities within its right; their communities are woven together from generations of blue collar workers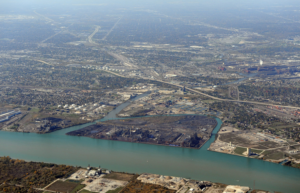 , community cohesion, and tri-city traditions. Those from the area understand where I'm coming from. But, there are many who still live tri-city area generally
trapped by their zip code, unable to afford to move to more prosperous areas; though, there are always exceptions to such generalizations.  There are some folks including my family and close friends, who choose to live in Delray, River Rouge, and Ecorse, despite its current downfalls, because they remember what it once was.
On West Jefferson Avenue there is a bridge over the Rouge River that leads Detroiter who venture across into a post-industrial society. But, then the smell invades the nostrils; a noxious chemical odor that crinkles the nose like a punch to the face.  Another feeling sinks in: this is real and people live here.  As you continue south on Jefferson, you will then enter my hometown, River Rouge, MI.  River Rouge is responsible for much of its industrial importance to its bordering waterways, the Detroit and Rouge Rivers. Zug Island, which manufactures both iron and steel. Today, River Rouge is home to just under 8,000 citizens and serves as the Northeastern border of the Downriver community. Further south on Jefferson, you would have entered the city of Ecorse. Ecorse became a significant economic force in the region when its first steel mill, Michigan Steel Mill,
began operation. Both River Rouge and Ecorse are foot communities connected to the "Dog Leg" of Detroit. By all accounts, Delray, River Rouge, and Ecorse was once a diverse and thriving community, rife with theaters, shops, restaurants, bars and various religious centers.  Today, only vestiges of this former legacy remain.
Thanks to organizations like Tri-City Community Development Corporation who see the need for change and community development.   Tri-City CDC strives to empower residents in Southwest Detroit, River Rouge, and Ecorse communities through collaborative efforts between faith based organizations, some  businesses, local schools and area residents. Apart of Tri-City's mission is to develop and
implement community strategies and initiatives that strengthen families and enrich the quality of life by offering an extensive list of programs for the community.  Some programs include job readiness training, summer employment/ after school programs, senior citizen activities, feeding programs, family support programs,  learning opportunities and services for single parents.  Ninety percent of their population meets low income guidelines.
I am a humble benefactor  of Tri-City Community Development Corporation; who provided my first job opportunity at age 14 and preoccupation for serving communities.  Presently, I am the Community Development/ Relations Manager for the University of Phoenix- Detroit Campus and a Challenge Detroit Fellow.  I can honestly say, "I AM BECAUSE WE ARE and BECAUSE WE ARE, I AM"