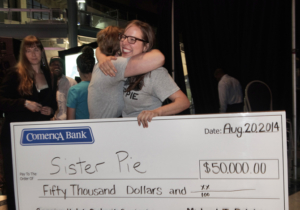 A few years ago, my father told me about an organization he was working with called Hatch Detroit. They held a contest where the public could vote on a small businesses to win grant money. I thought this was a great idea- who better to decide who wins than the community that the business will be serving?
Fast-forward to this year, where in Challenge Detroit I began to recognize the importance of supporting smaller Detroit neighborhoods, and their local businesses. Owning a small business is hard, and even harder in Detroit. I began to see the immense value of providing resources to small businesses. I remembered Hatch Detroit, and knew I'd love to help them through my individual impact project.
What I didn't realize is that not only does Hatch provide grant money to the contest winner, but they provide the top ten finalists with resources such as legal assistance, marketing and financial support, aid in finding a space, and more. The exposure provided by Hatch Detroit is advantageous for these businesses, as it brings them more business and even possible investments. This is a part of the story that Hatch Detroit wants to share: it's so beneficial to participate in the Hatch Detroit contest because you could be linked into this network of alumni that's full of opportunities and resources.
Through surveying and speaking with Hatch Detroit alumni, I was able to gather this story into an infographic template that Hatch could use to share with whoever they'd like: potential grant funders, contest applicants, the general public, and so on. They could update it as their alumni grow in number, or the businesses themselves grow.
It was rewarding to hear that most of the alumni valued their Hatch Detroit experience, and its accompanying exposure, mentorship, and educational resources. I'm excited to watch Hatch Detroit alumni businesses grow, and I hope my work towards sharing the alumni story helps to inspire growing Detroit businesses to apply to this amazing opportunity. The top ten finalists will be announced on August 9th, with the vote taking place from August 10th-16th. The final winner is announced on August 30th, so stay tuned!
Check out Hatch Detroit on Instagram: @hatchdetroit.