Tell us about one of your favorite neighborhoods in Detroit and what makes it unique?
I live Corktown, which is one of my favorite neighborhoods in Detroit because it's pretty walkable compared to most areas of the city, especially in the summer. I love how close it is to downtown and southwest Detroit.
Corktown is a great place to be, but like many parts of the city, it's a complicated situation. Corktown is generally considered to be a part of the 7.2 phenomenon, which is problematic in the sense that it is prioritized for development and is not necessarily representative of the city at large. The western parts of Corktown are still plagued by issues associated with poverty, lack of support, and frankly, racism.
I appreciate the perspective of living in a place that is steadily improving while simultaneously representing certain realities of daily life for the other 133.9 square miles of the city. I've tried to educate myself in an effort to contextualize Corktown's place in Detroit as a whole, and so far it's been a sobering and constructive experience.
Tell us about the challenge project you're currently working on, what are you learning from the experience?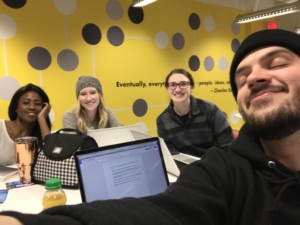 I'm currently working with about half of our cohort on a project with Urban Neighborhood Initiatives. Together we are helping UNI design a tour of murals in the Springwells neighborhood, and my team specifically is focused on creating a digital aspect of the tour.
I've really enjoyed this project so far, because it's given me the opportunity to learn a lot more about the Springwells neighborhood, a place I wasn't very familiar with before. I have a lot of respect for the work that UNI does and the work of other organizations in the neighborhood, and it's exciting to see them all establish a living, breathing testaments to the power of public art in creating opportunity and building community.
Tell us about your host company and your role in the organization.
My host company is The Stewardship Network, where I work as a Network Administrator. Our mission is to, "Connect, equip, and mobilize people and organizations to care for our land and water in their communities." My job is to support communications and initiatives both internally and externally in order to strengthen our network and broaden our capacity.
I love working for TSN because I get to work to support protecting the environment every day. They're extremely supportive of my professional development (hence my participation in Challenge Detroit), and the people on our team and within our network inspire me every day. I'm really lucky to be with them!
What kind of impact do you hope to have with your host company and within the city?
The Stewardship Network provides resources and support to anyone working to protect the land, air, and water within their communities. We've done a lot of work with individuals and organizations in the greater Detroit area, and we're currently in the process of establishing a working group within the city itself. Based on our first few meetings, I'm excited about the challenges and opportunities that will come with this new expansion and how it will inform our work going forward.
As an individual, I've been really grateful for the opportunities that Challenge Detroit has provided for me to give back to the city and to some of the amazing non-profits that support its residents. Outside of the program, I strive to understand my place within Detroit, acknowledging the various aspects of my identity and how they play into larger trends within the city in potentially problematic ways. I know I must be vigilant, self-aware, and proactive in controlling the impact that I have on my new home, and I'm confident in my ability to do so and motivated to continue getting better!
What are you most looking forward to this summer in Detroit?
As I mentioned earlier, Corktown is a great place to walk around. I hope to get out on my bike more, and I'd like to take advantage of the weather by exploring the city in a more intimate way. I'm also really excited to attend music events, such as Movement and MO POP. Lastly, I'm excited to visit Belle Isle. During their Earth Day celebration, my friends and I found a little area of riverfront that we worked hard on, so it's our goal to have that spot completely cleaned up by the end of the summer!
How do you believe your fellowship will shape your career moving forward?
This fellowship has facilitated some incredibly insightful experiences for me throughout my time in the program. From day-to-day group dynamics, to utilizing the design thinking process, to diving head-first into complicated and challenging situations that represent the complex and ever-changing dynamics within the city, my time in Detroit would not have been the same without this fellowship. I'm grateful to have this time built into my schedule to address these important issues and to develop useful skills, and there's no doubt that the things I've learned this year will help me in whatever I do going forward. I'm so happy to have met my amazing colleagues in my cohort, the CD staff, and all the other incredible people that we work with throughout the program. It's truly been a constructive and thought-provoking experience.
To see more of Rob's experience in Detroit in his spotlight video.