Natasha joins us from Maryland and has a background in Architecture. We recently asked her to tell us about her experiences in Detroit so far and here's what she had to say.
Tell us about where you live and what makes it unique? 
There is a tree in front of the house I live in with the brightest red leaves I have ever seen. 
I live in Midtown, within what Google maps calls "Art Center". In addition to my neighbors being students and young professionals like myself, families live here, many of whom have for decades. I had the pleasure of meeting some at a community meeting in October regarding the relocation of a county jail from downtown to I-75 and Ferry. I talked with mothers and their kids about the idiocy behind the proposal. There were about 100 people at the meeting, all were against the jail. We prevailed as a community, and the proposal is now null. Knowing I live amongst such progressive people affirms that I found a new and beautiful home.
Your fellowship year just began, what are you most looking forward to in the coming months?
There are 28 of us in the cohort and I feel unfamiliar with most. I look forward to getting to know the other fellows, their stories, and hearing what their passions are moving forward. 
Tell us about your host company and your role in the organization.

I was hired on as a designer in September. Majority of my time is devoted to putting together a guide that suggests how to control the long-term deterioration of the Lee Plaza Apartments, a 15-story art deco skyscraper that has been officially unoccupied and out of use for 30 years.
This IS my dream project. Although it is not our job to explore the future use (yet) I view almost everything I do as design and have a ton of fun geeking out over this building. In graduate school, I chose the Lee Plaza as a site for one of our projects, and the minute I heard that the building's future was circulating at the firm's hands, I jumped on it. 
The team I work with is very knowledgeable, passionate and kind enough to place me on more stimulating projects when Lee Plaza has a quiet day. Every morning, I wake up excited to get out of bed, which is not something I did often before the program began. 
We asked Mark Farlow, Director of Design at HAA to tell us a bit more about Natasha's work and the value she adds to the organization.
"Like any Design Professional (emerging Architect) in our office, Natasha Vemulkonda is immersed in a fast-paced design-saturated environment. Recently, Natasha assisted our team in a proposal for a new mixed-use development in the downriver community, working through the various plan drawings for the term sheet. In addition, she has been a key team member on the Building Assessment Report for Lee Plaza, located on West Grand Boulevard here in Detroit. Her efforts in these projects is valuable because owners are relying on her research and developers and municipalities are evaluating their future on her work."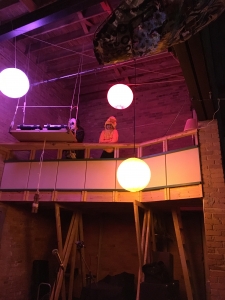 What kind of impact do you hope to have with your host company and within the city? 
I feel that some new development in Detroit is driven by capitalism rather than by the needs and desires of the community. I want to change that, and I hope through HAA I can work directly with Detroit residents and creatives towards a more sustainable and socially conscious future. 
What are you most looking forward to in Detroit this year?
Warmth. I think Spring-Summertime can be most productive when it comes to construction and agriculture, two things I am deeply passionate about.
How do you believe your fellowship will shape your career moving forward.
Architecture is a collaborative field that is just one of many tools used to transform landscapes. That being said, some firms overlook the importance of directly engaging with daily users of the spaces they design.
HAA and I think differently. We want to learn from Detroit. I want to learn from this year's program cohort about the needs of their fields, families, cultures-as it's not far out that one day, I could be designing the spaces
they work, live, play and give in. 
I aspire to be a community-minded architect, with the main purpose of serving people around me. With the support of parallel ethos that Challenge Detroit, HAA, and communities I've met, especially the North End(!) hold true, I have never been so thrilled for the future.
To see even more of Natasha's experience in Detroit so far check out her spotlight video below!