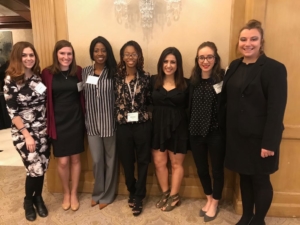 Tell us about one of your favorite neighborhoods in Detroit and what makes it unique? 
One of my favorite neighborhoods is the one I live in, Rivertown, or the Warehouse district. I spend a lot of my free time on the Riverwalk, which is one of the boundaries of Rivertown. There are a few new restaurants and businesses popping up in the area and some that have been here for decades. I like Rivertown because it is pretty laid back, but I feel like I can find everything I need within walking distance of my apartment.
Tell us about the challenge project you're currently working on, what are you learning from the experience?
Half of our Challenge cohort is currently working on the Detroit 67 project. We are working with the Detroit Historical Society to develop a youth symposium around the Detroit 67 exhibit. What I have found most valuable throughout our Challenge projects are the number of people we meet and learn more about how nonprofits operate. Coming from corporate philanthropy, I think it is valuable to understand the needs and abilities of nonprofits. Through our current project, we have been able to meet a lot of individuals who work for the Historical Society and also how they run programming.
Tell us about your host company and your role in the organization.
My host company is the Quicken Loans Community Investment Fund and I work on project management. I am currently running two educational programs, Day of Innovation and The Network. Both programs work with Detroit Public Schools Community District (DPSCD). Day of Innovation invites all 6th graders in DPSCD down to Quicken's space and engages them in innovative STEAM programming with a few nonprofit partners. The Network is a 1:1 mentorship programming that involves 120 students from 4 High Schools in the city. Outside of those programs, I coordinate all of Quicken's intern volunteering and work with a few additional companies to coordinate events for them.
We ask Lauren's host company to tell us a bit more about the work she has been doing this year and here's what they had to say.
One of the many things Lauren has been driving with the Quicken Loans Community Investment Fund (QLCIF) is our Day of Innovation programming. Day of Innovation brings 3,000+ DPSCD 6th grade students through our doors each school year. Along with coordinating programming, activities with partners, transportation and catering logistics with DPSCD and more, Lauren has also invested many hours in understanding the curriculum connection between our activities and what students are learning in the classroom. This has helped QLCIF develop better relationships with teachers and has created more impactful experiences for students when they are in our buildings. – Jamie Sedlacek, Director of Team Member Engagement
What kind of impact do you hope to have with your host company and within the city?
I hope to provide fun and impactful learning experiences for students while I am at Quicken Loans. By engaging really innovative nonprofit partners, I think my team and I can create programs that leave lasting and positive imp
acts on students.
What are you most looking forward to this summer in Detroit?
This summer, I am really looking forward to spending more time on the Riverwalk and creating more memories in the city. I am also hoping to volunteer more and become a little more engaged in community events.
How do you believe your fellowship will shape your career moving forward?
Challenge Detroit provides really incredible opportunities to meet people in Detroit and explore different organizations. I think I have made some really great connections through the fellowship that could help shape my career. I also think the fellowship has provided me the opportunity to reflect more on what career path I would like to follow. It has reaffirmed my desire to do community work and to do that in Detroit.
To learn more about Lauren's experience as a Challenge Detroit Fellow check out her spotlight video!