As a year four Challenge Detroit Fellow, you finished your fellowship almost one year ago. What are some of your highlights, personally and professionally from the past year?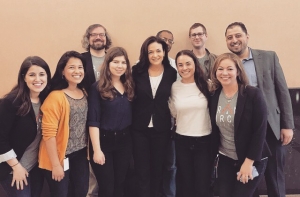 So much has happened in the past year! After Challenge, while working for the Executive Office at Wayne County I was assigned to work for the Hillary Clinton campaign and ran the Southwest office. A few months after the election I completed my AICGS Transatlantic Exchange Fellowship in Berlin, Germany, and traveled Europe for a month with my mother. When I came back I started running an amazing program called Girls Making Change, a fellowship program started by State Rep. Stephanie Chang for 10 high school girls of color who live in House District Six to train them on systemic issues and how to change them. Oh and I also got into the School of Social Work at Michigan and I start this Fall!
You recently started a new position at Grand Circus, tell us about your position, what your experience has been like and how you continue to carry what you learned during your fellowship in your work today.
I'm the Diversity and Inclusion Coordinator thanks to Code2040 and Google for Entrepreneurs, which is working together to increase the amount of Black and Latinx people in the world of tech. It's pretty awesome! I've taken coding before with Allied Media and Grand Circus and believe technology is the new skills trade, which is a problem if you have a large population who can't obtain these jobs. It's my job to expose the different opportunities there are. I continue to carry out my CD skills by always designing my work with the people in mind. My job is challenging because our population has a hard time accessing our services, so it's my personal challenge to try to figure out ways to remove barriers.
What do you believe are Detroit's top three opportunities for change and why?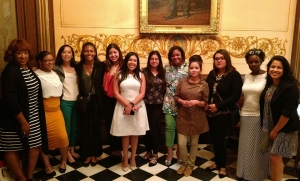 This is difficult only because I think Detroit has the opportunity to do a lot of things, but it's all a lot of hard work. I believe right now Detroit can (1) change its political landscape probably faster than we can (2) change the face of business leadership, but we can begin to start to have that conversation and what that would mean for the success of our city and its long term residents. I believe that Detroit has the opportunity to (3) demand more. If you ask Detroiters, they want buses, they want education, better jobs, and I believe that if we want sustainability, we need to meet the residents with the basics, which is still lacking for many. Gentrification doesn't help.
What are a few of your favorite ways to play and explore in Detroit?
Lately lots of bars and restaurants! There seems to be something new every week. I enjoy going out a few times a week with a different friend to keep my circle tight and connected. I know pretty amazing people and I've realized that I'm doing two things when I hangout with them, 1. I'm hanging out with someone amazing and maintaining a meaningful friendship and 2. I'm staying inspired and pushed to do more.
What excites you most about Detroit's future?
The native and long-term residents who are building, organizing and who plan on creating a better future for all. There is creativity and so much love for the amazing possibilities that could be our city, we just have to grow our table, or be offered a seat at it, and work on collective power. We're working on it.